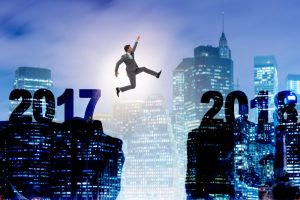 2018 has already started, but that doesn't mean it's too late to make a few New Year's Resolutions. While you're trying to get into the habit of going to the gym and planning how you're going to go on a great vacation this year, think about adding improved oral health to the list of things you want to accomplish. A healthy mouth helps you feel and look your best! Your dentist in Spring lists a few reasons why your pearly whites should be primary on your list of priorities in 2018.
You'll Feel More Confident
You could look into cosmetic dentistry treatments to get a smile makeover that will make you feel like a star, but that isn't always necessary if all you want is a little confidence boost. For example, If you struggle with bad breath, doing something as simple as adjusting your oral hygiene routine may be able to vanquish the odor and make you feel better when you're interacting with people.
You'll Be Healthier
Losing weight is at the top of most people's list of New Year's Resolutions, and that's awesome! However, your toothbrush might be just as effective as a treadmill at improving your overall health. By keeping a clean mouth, you can greatly reduce your risk of developing gum disease. You might not think that's a big deal, but issues with the soft tissue that surrounds your teeth can lead to some serious systemic health problems, including:
Cardiovascular disease. When you have gum problems, bacteria and sneak into your bloodstream and become a factor in heart attacks and strokes.
Preterm birth. Mothers with gum disease are more likely to go into labor early.
Alzheimer's. Bacteria can work its way from your suffering gums to your brain, leading to confusion and memory problems.
Another health perk of a happy mouth is that you won't have any problems with munching on nutritious vegetables and other foods that will keep you body functioning well from your top to your toes.
You Could Save Money
You don't want to dip into your vacation money to pay for major dental work, do you? By teaming up with your family dentist in Spring and adjusting a few of your habits to care better for your mouth, you may be able to prevent the need for major procedures. To keep your fun fund intact, try to:
Brush twice a day.
Floss at least once a day.
Cut back on sugary and acidic foods.
Stop using your teeth as a tool (grab a knife to open that stubborn package instead).
Schedule regular visits to your dentist for a cleaning and checkup.
What does 2018 hold in store for you? We hope it involves some pampering for your teeth and gums!
About the Dentist
Dr. C. Gary Simmons is your family dentist in Spring. He wants all of his patients to have a fantastic, healthy 2018. If you have questions about how to achieve a happy mouth for a happier you, please get in touch with Dr. Simmons' team at 281-370-6600.