Nightguards Protect Spring, TX Smiles
Protecting Your Smile is Our Priority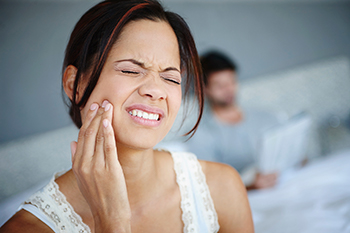 Bruxism (also known as "teeth grinding) is very common among adults who experience a lot of daily stress. While many people assume this "bad habit" can be broken with sheer will, the truth of the matter is that a majority of patients actually only experience it when they're asleep, resulting in unexplained dental damage, significant pain, and other potentially serious symptoms. Here in Spring, TX, Dr. Simmons and the rest of our staff can provide real, lasting relief with the help of a customized nightguard. Contact us today to schedule your appointment!
How do I know if I'm suffering from bruxism?
Common signs that often indicate bruxism include the following:
Teeth that show signs of flattening, fracture, chips, looseness, or worn down enamel with no known cause.
Excessive tooth sensitivity that increases over time.
Soreness or outright pain that's located in the face or jaw.
Jaw muscles that seem excessively tight or fatigued.
Pain that seems to be located in the ear.
Constant headaches that seem to originate in the temples.
Damage to your tongue or the inside of your cheek.
Nightguard Therapy
During a comprehensive exam, Dr. Simmons can determine whether or not you suffer from bruxism and the extent of the damage you've experienced. With the help of a nightguard, patients can protect their smiles as they rest, providing a strong barrier that alleviates the intensity of teeth grinding and discourages contact between the upper and lower teeth. Better yet, our team can provide you with a high quality, personalized model that's much more effective and comfortable than what you would find on the shelf of a store.
In addition to nightguard therapy, patients from Tomball, TX and surrounding areas who are suffering from bruxism may benefit from stress management, facial relaxation techniques, massage, or a change in diet to softer foods.