Full & Partial Dentures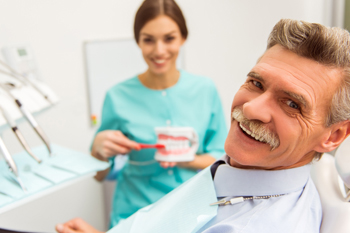 Whether patients are missing a single tooth or a complete row of teeth, it's essential that they replace these teeth as soon as possible to avoid additional oral health concerns including diminished gum tissue volume and jawbone density. For patients who have experienced advanced tooth loss, the need to renew oral health by replacing missing teeth becomes even more important. With numerous missing teeth or a completely edentulous (without teeth) arch, patients are highly susceptible to the oral health concerns that can occur following tooth loss. If you're in need of restoration following extensive tooth loss, contact the Spring dental office of C. Gary Simmons, DDS. We offer a wide range of tooth replacement options to renew oral health and keep our patients smiling.
Partial Dentures
Partials and full dentures are tooth replacement prosthetics that use a gum-colored base material to support numerous replacement teeth within a single restoration. Partials fit between remaining healthy teeth, allowing patients to retain dental structures if possible. The gum colored base is formed to fit into the gaps in the smile, and the partial is held in place with metal clasps attached to surrounding healthy teeth.
Full Dentures
Full dentures are crafted much like partials, using a gum colored base to support a full row of prosthetic teeth. However, without surrounding healthy teeth to provide support, full dentures need to be molded to fit snuggly against the gum line. This snug fit creates natural suction between the gums and denture. To increase the stability of a full denture, some patients prefer to use a small amount of denture adhesive.
Caring for Dentures
Caring for traditional partial and full dentures is relatively simple. You'll need to brush the prosthetic using a soft-bristled denture toothbrush to remove any food particles or plaque buildup. You do not need to use toothpaste, but many patients prefer using denture toothpaste because it keeps the denture feeling, smelling, and tasting fresh. During sleep, patients need to store their denture in cool water or denture cleaning fluid. This keeps the prosthetic moist and sanitizes the denture. If you are concerned that you may drop your denture during cleaning, lay a towel on the sink to pad the hard surface, preventing damage. You will need to visit our office at least two times each year. During these dental checkups, Dr. Simmons will examine the denture for signs of wear or warping and ensure the prosthetic still fits properly. In most cases, we can make minor adjustments in our office, but for more advanced breaks or bends in the denture, we may need to have the denture repaired by a lab. This can take a few days or a week.
Cost of Dentures
The cost of dentures varies based on the materials we use, number of missing teeth, the need for any preparatory treatments like tooth extraction, and whether or not patients choose to utilize dental sedation. Partials typically cost between $500 and $3,000. A full upper or lower denture can cost anywhere between $300 and $5,000. Most dental insurance providers do cover a percentage of the cost of these treatments.