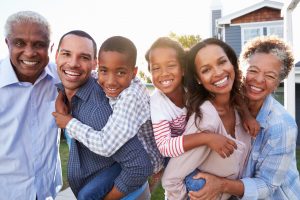 You were thrilled to finally pull off the family reunion you've dreamt of your whole life. Seeing your relatives of all ages enjoy themselves and spend time together at Waterwall Park reminded you of how much you have to be grateful for. Since you were smiling so much, it made you think about all of the grins around you, and seeing your older family members with dentures made you conscious of how important your teeth are. You wondered how you could maintain your oral health at any age, and with these tips from Dr. C. Gary Simmons, the premier dentist in Spring, TX, you can keep your smile happy your whole life long.
What Dental Health Needs Do Kids Have?
Dr. Simmons explains that kids are especially prone to tooth decay, for two reasons: sugary foods and beverages, and developing hand-eye coordination. Since dental issues can arise as soon as teeth show up in the mouth, the American Dental Association (ADA) recommends scheduling your child's first visit no later than their first birthday.
What Dental Health Needs Do Adults Have?
Adults usually face two common dental problems – tooth decay and gum disease. By the time a patient is an adult, most will have had at least one cavity, and half of patients will deal with some form of gum disease. At this point in your life, it's important to get regular preventive care to make sure your teeth last as long as possible.
What Dental Health Needs Do Seniors Have?
As people age, teeth are subject to general wear and tear, and seniors can deal with issues like dry mouth, periodontitis (advanced gum disease), tooth loss, and even oral cancer. And, many systemic diseases that seniors face, like diabetes, can impact your smile. Seeing your dentist twice a year and taking good care of your oral health at home becomes crucial at this stage of life.
How Can I Take Care Of My Teeth As I Age?
Once you cross the threshold into your golden years, it's important to follow the strategies below to keep your natural teeth for as long as possible:
2x2x2 – Brush gently for two minutes, twice a day, and floss at least once daily. Be sure to see us at least twice a year, too, no matter how old you are. If holding a toothbrush is hard because of arthritis, try switching to an electric one, since this will take the work out of brushing.
Get Missing Teeth Replaced – Missing teeth, no matter your age, are problematic. To keep your entire mouth healthy, ensure proper chewing and speech, and maintain a great-looking grin, get dental implants from our team.
Drink Lots of Water – To keep your mouth hydrated and make up for dry mouth that seniors experience, drink plenty of water and chew sugarless gum with xylitol – a sugar free sweetener that strengthens enamel.
Avoid Tobacco – If you're still smoking or using tobacco products – stop. These are the leading cause of oral cancer and you can take steps to protect your entire body by eliminating this unhealthy habit.
Now that you know how to take care of your teeth throughout your whole life, schedule your appointment with Dr. C. Gary Simmons today – we'll keep your smile beautiful no matter what age you are!