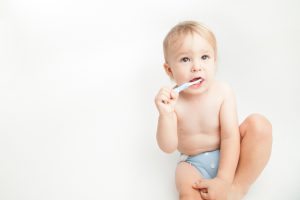 A common question among new parents is, "When should I bring my child to the dentist for the first time?" Some parents wonder why it's even necessary to bring their children to the dentist at an early age when technically, they only have "baby teeth." Although they do eventually fall out, baby teeth do play an important role in your child's overall health as they continue to grow. Early dental education is also important for both parents and children. After all, as their parent, you are setting the example for how they should care for themselves. Dr. C. Gary Simmons can help you to take care of your family's oral health.
How old must my child be to visit the dentist?
According to the American Academy of Pediatric Dentistry, your child's first dental visit should be by his or her's first birthday at the very latest. Not only dentists agree, but pediatricians too! Surprisingly, your child becomes susceptible to cavities at a very early age. Studies show that more and more pre-school aged children are getting cavities because they're parents aren't being proactive in their dental health. Furthermore, about one in four children in the United States have had at least one cavity by the age of four! How can Dr. Simmons help to prevent your child from becoming one of these statistics? By having your child visit your dentist in Spring, TX, you will be equipped with the information your family needs to lower risks for cavities and practice proper dental hygiene.
How can Dr. Simmons help my family?
When it comes to the health of your child's primary teeth, there's no better time than now to start practicing excellent oral hygiene. The pediatric dental care that Dr. Simmons provides can help keep your child's primary teeth healthy and free of decay or other dental diseases. Not only will your child be able to get comfortable and build a friendly relationship with your Spring, TX dentist, but they will receive comprehensive cleanings infused with preventive products such as fluoride. During their appointment, you and your child will be educated on the proper tools you need and the correct cleaning techniques you should use to ensure there is a strong foundation for your child's adult teeth to grow into.
All of these aspects of your child's dentist appointment are super important! Healthy baby teeth and gums create strong bites and assist with chewing food and speaking clearly. Also, by keeping their gums strong and healthy, their adult teeth will grow with less risk for tooth decay or other dental problems down the road.
How can I schedule my child's first appointment?
When it comes to developing and maintaining beautiful, strong teeth for life, quality preventive care is key. Dr. Simmons makes every effort to catch potential problems in their earliest stages through routine examinations and cleanings for you and your little ones. This will potentially save your family from a greater loss of time and money down the road. Our team wants you to feel confident about your children's future both in and out of our office. Contact us today if you have any questions or would like to educate yourself on the proper dental care you should be practicing at home. We would be happy to schedule an appointment and assist you in taking charge of your family's health.